Checking the oil level should be carried out after 15,000 km of vehicle run
It is recommended to drain the oil within 15 minutes after the trip, until it has cooled down and has good fluidity
Manual transmission is filled with API GL4 SAE 80W-90 or SAE 75W-90 oil
It is recommended to replace the factory-filled oil with SAE 75W gear oil if the vehicle is operated for a long time at an ambient temperature below -30º C
The manufacturer recommends Toyota Genuine ATF WS for automatic transmission
To check the oil level, add it or replace it in a manual transmission, you will need socket heads for 13, 17 and a syringe
Unscrew the filler plug
The cork is sealed with a rubber ring. We replace a heavily compressed or torn ring
We substitute a container under the hole, as oil can flow out of it
The oil level should be at or slightly below the edge of the drain hole (you can reach the surface of the oil with your finger)
If the oil level is very low, fill the oil with a syringe. We twist the filler plug of the control hole.
To drain the oil, unscrew the filler plug. Unscrew the drain plug and drain the oil
The volume of the newly filled fluid is 2.5 liters
We twist the drain plug and fill in fresh oil. We twist the filler plug
Checking and changing the oil in an automatic transmission
You will need an 8 square wrench and a syringe
We warm up the working fluid in the gearbox to an operating temperature of 70-80º C, or after a short trip
We install the car on a flat horizontal platform and brake with a parking brake
We press the brake pedal, alternately set the selector lever to all positions from "P" (parking) to "D" (forward), pausing briefly in each position to fill the torque converter and hydraulic system with fluid.
After that, set the selector lever to the "P" position
Release the brake pedal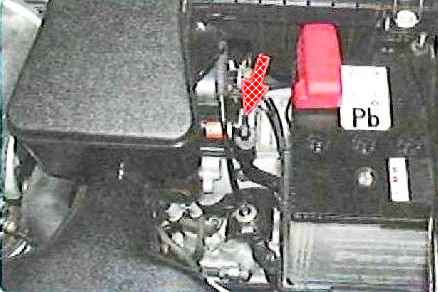 This is how the pointer (probe) of the working fluid level is located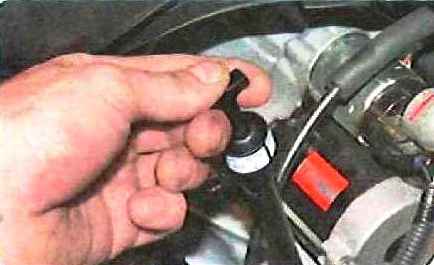 We take out the dipstick, wipe it with a clean cloth and put it back in place
Re-remove the probe

With the engine idling, the fluid level should be in the "HOT" range
If the level is below this range, you need to top up the working fluid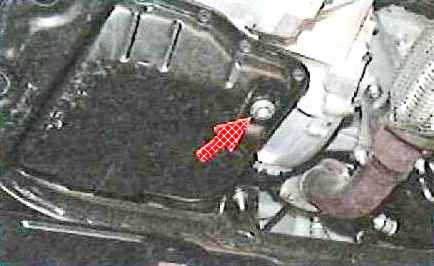 This is how the plug for draining the working fluid from the automatic transmission is located
To replace the working fluid in an automatic transmission, we install the car on a lift or an inspection ditch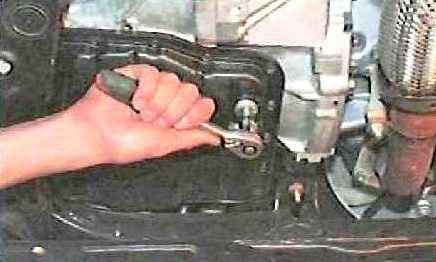 Unscrew the plug of the hole for draining the working fluid and drain it into a previously prepared container
We replace the sealing gasket of the drain plug, regardless of its condition
We twist the plug and fill in fresh working fluid through the filler pipe to the lower mark of the "COOL" range
We start the engine at idle and move the selector to all positions from "P" to "L" and back to position "P" and check the level of the working fluid
When the fluid is completely drained, the calculated volume of the newly filled fluid in the U-250 automatic transmission is 3.5 liters