Renault Logan cars are fitted with rack and pinion steering
The steering gear consists of two steering rods connected by ball joints to the steering knuckles
The steering column is safety. Most cars are equipped with power steering.
The pressure of the working fluid in the hydraulic booster. created by a vane-type pump, which is mounted on the engine and driven by a V-belt or V-ribbed belt (depending on the configuration).
If the power steering fails, the ability to drive the car remains, but the effort on the steering wheel increases.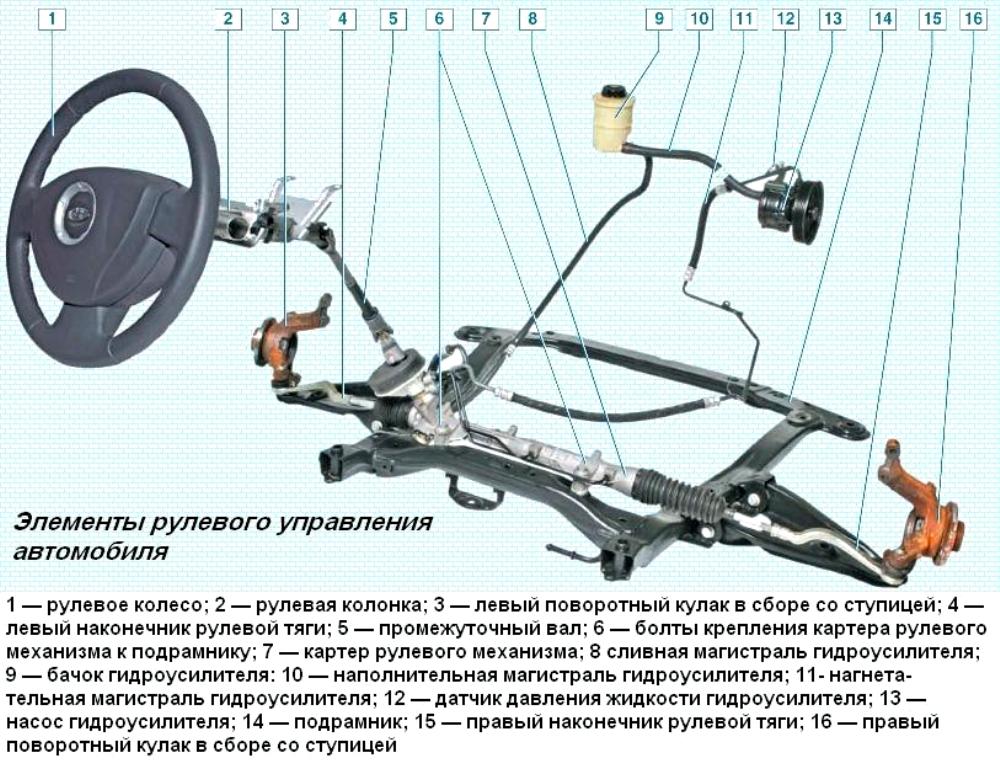 The steering box is mounted on the subframe and secured to it with two bolts.
The steering column is equipped with an energy-absorbing device that increases the passive safety of the car, and an anti-theft device in the ignition lock that blocks the steering wheel shaft from turning.
The steering column also houses the controls for headlights, direction indicators, horn, washer and windshield wiper.
Possible malfunctions of steering without hydraulic booster, their causes and remedies
Increased steering wheel play and steering noise
Loosen tie rod ball stud nuts - Check and tighten nuts
Loose steering gear - Tighten the mounting bolts
Increased clearance in tie rod ball joints - Replace tie rod ends
Steering wheel tight
Damage of front suspension strut parts - Replace or repair strut
Upper strut mount bearing damaged - Replace upper strut mount with bearing
Lack of lubrication in the steering gear - Apply lube
Damage of tie rod ball joints - Replace tie rod ends
Misalignment of the front wheels - Determine and correct the cause of the misalignment
Whistling noise when turning the steering wheel on a stationary car
The source of noise is the movement of the working fluid - This is not a sign of a malfunction in the hydraulic system
Noise and knocks in the steering
Contact of the hydraulic injection pipeline with the body - Eliminate the contact of the pipeline with the body
Loosen tie rod ball stud nuts - Check and tighten nuts
Loose steering gear - Tighten steering gear bolts
Increased clearance in tie rod ball joints - Replace tie rod ends
Ripple of effort when turning the steering wheel with the engine running
Insufficient pressure of the working fluid - Contact a service station
Distributor spool sticking - Contact a service station
Air in the hydraulic system - Bleed the air from the hydraulic system
Jumps on the steering wheel from the side of the road
Air in the hydraulic system - Bleed the air from the hydraulic system
Loosen ball stud nuts - Check and tighten nuts