Checking the brakes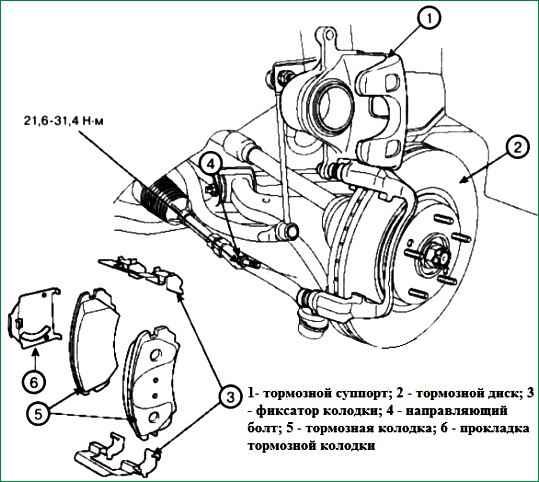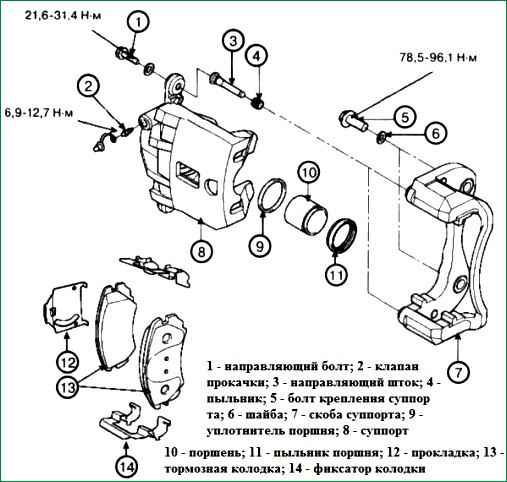 Install the car on a lift or a horizontal surface
Loosen the wheel nuts
We raise the car using a lift or jack and remove the wheel from the side to be checked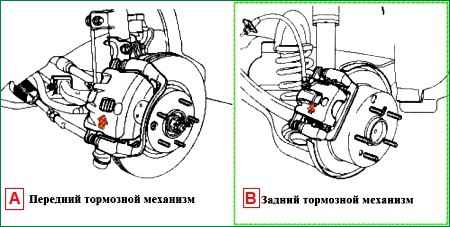 Through a special inspection hole, we check the thickness of the brake pads.
The standard thickness of the front brake pads is 11.0 mm, the maximum allowable is 2.0 mm
The standard thickness of the rear brake pads is 10.0 mm, the maximum allowable is 2.0 mm
Removing the front wheel brake pads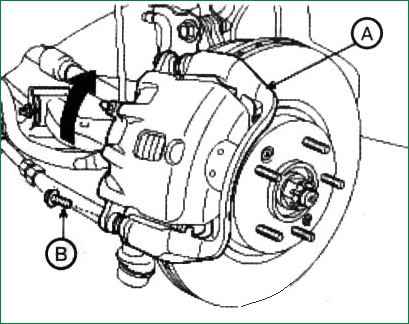 Unscrew the guide bolt (B) and lift the brake caliper (A)
Checking the hoses and the finger boot for damage and wear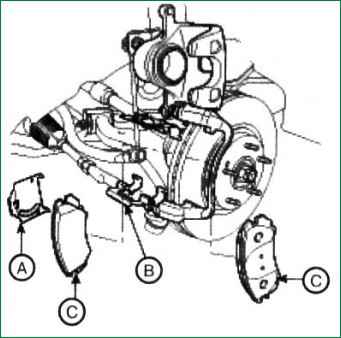 Remove pad gaskets (A), pad retainer (B) and pads (C)
Installing front wheel chocks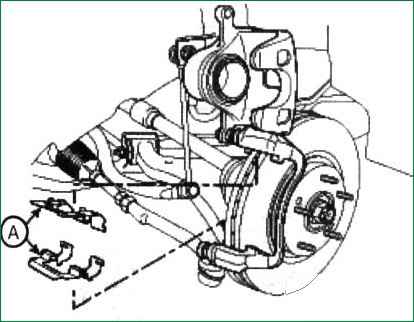 Install the pad retainers (A) on the caliper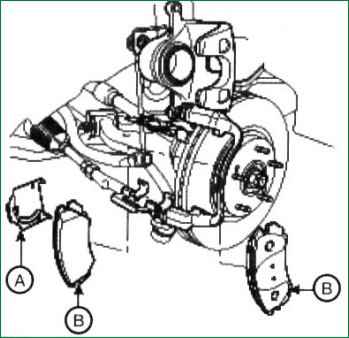 Check for foreign material on the pad gaskets (A) and the back side of the pads (B)
Correctly install the brake pads (B) and pad gaskets (A) on the retainer
Install the brake pad inside with a wear indicator
If pads are reused, they must be reinstalled to prevent loss of braking performance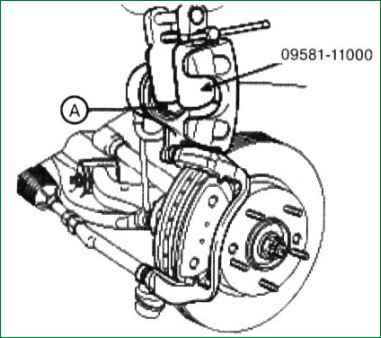 We press on the piston (A), using tool 09581-11000, so that the caliper is above the pads
Make sure the piston boot is in the correct position to prevent damage when the caliper rotates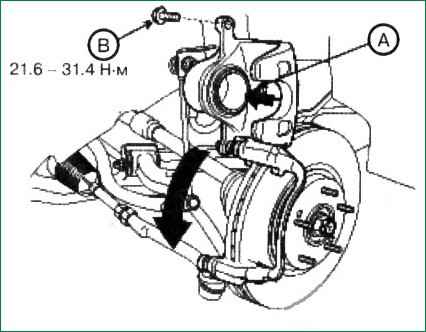 We move the caliper down, being careful not to damage the boot of the finger (A), then screw in the guide bolt (B) and tighten with the required torque
If the caliper was removed, then connect the brake hose to the caliper
Add brake fluid to the expansion tank of the brake master cylinder
Pumping the brake system, article - Bleeding the hydraulic brake system of a Kia Magentis car
After replacing the brake pads with new ones, it is possible to increase the stroke of the brake pedal. Therefore, it is necessary to depress the brake pedal several times in order for the travel distance to be restored
After installing and connecting the hoses, check the brake system for brake fluid leaks
Checking the brake disc
Clean the brake disc from foreign objects
Using a micrometer, we measure the thickness of the brake disc in at least eight points.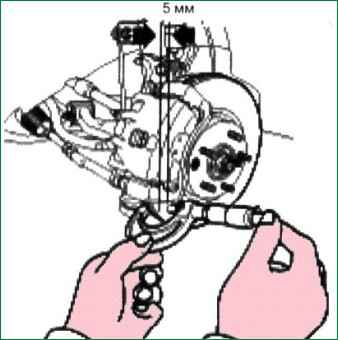 Standard brake disc thickness is 26.0 mm. Thickness limit 24.4 mm
The thickness of the disc should not exceed 0.005 mm around the circumference and 0.01 mm along the radius
If the wear of the disc exceeds the established limits, you need to replace the brake disc on both sides
Checking brake disc runout
Install the dial indicator so that its needle is 5 mm from the edge of the brake disc
Turning the disk by hand, we measure the runout.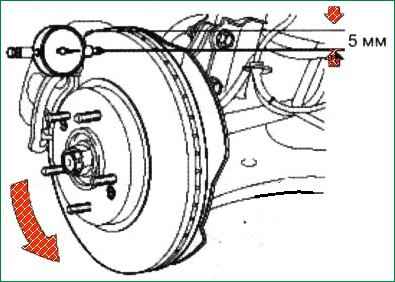 The maximum allowable runout value of the brake disc is 0.04 mm or less
If the runout of the brake disc exceeds the allowable value, you need to replace the disc
If the amount of runout does not exceed the allowable runout, but it does occur, then it is necessary to remove and rearrange the disk, and then repeat the measurements
If the beating of the disk does not disappear after rearrangement, it is necessary to replace the disk with a new one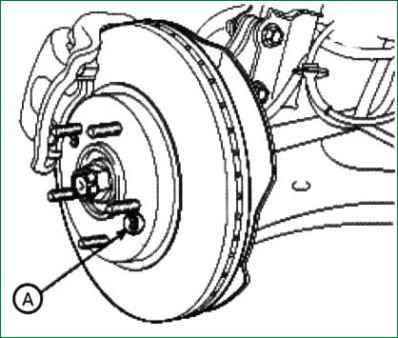 If you need to remove the disc from the hub, you need to use the M8 screw (A)