We remove the coolant pump for overhaul of the engine and also in the absence or insufficient circulation of the coolant
Insufficient coolant circulation can be caused by a broken pump impeller drive shaft, a broken impeller, or large deposits of scale in the pump cavity.
To remove and install the pump, you will need tools: 10, 12, 16, 18 sockets, 13 wrenches, TORX E14, TDC lock, camshaft lock, flat blade screwdriver, sealant, coolant drain container.
Drain the coolant (look - Renault Megan 2 coolant replacement method)
Remove the accessory drive belt (look - Replacing the Renault Megane 2 accessory drive belt)
Remove the timing belt (look - Replacing the timing belt engine K4J Renault Megane 2)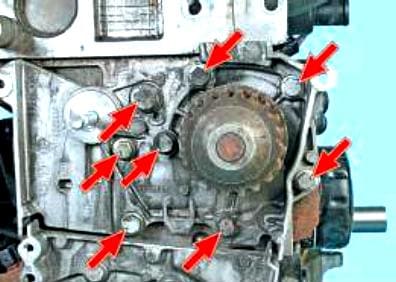 We unscrew the eight bolts securing the pump to the cylinder block.
Bolts vary in size, you need to remember the location.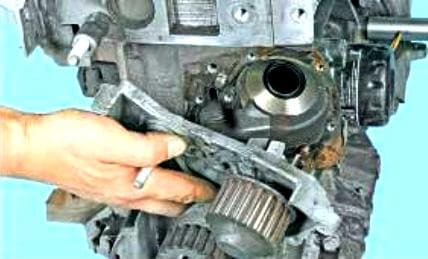 Pry off with a screwdriver and remove the coolant pump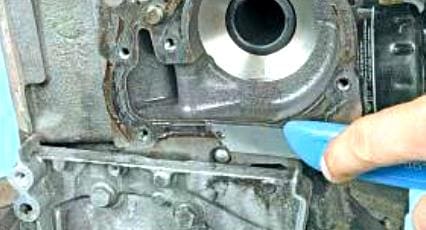 We clean the mating surface of the cylinder block and coolant pump from sealant residues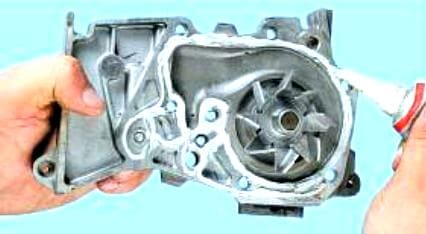 Apply sealant to the pump flange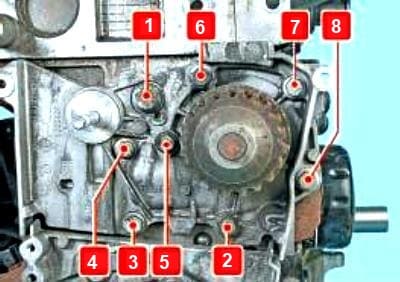 We tighten the coolant pump mounting bolts in the sequence shown in Figure 5.
We tighten the M8 bolt with a torque of 22 Nm, we tighten the M6 ​​bolts with a torque of 10 Nm.
Install all parts in reverse order.
Fill in coolant, remove air pockets, check the tightness and performance of the pump.