We remove the fuel rail to replace injectors and to clean the fuel rail, as well as when repairing the cylinder head
Preparing the car for work
Release fuel pressure
To do this, we tilt forward the rear row of seats (for a 5-seater configuration) or the middle row (for a 7-seater configuration).
Remove and lift upholstery.
Remove the hatch cover of the electric fuel pump.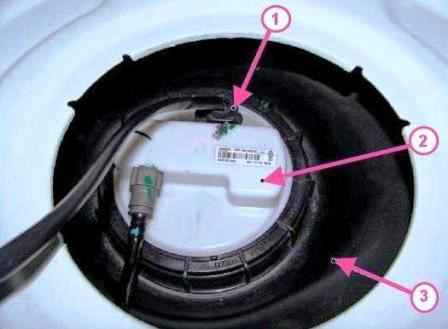 Disconnect block 1 (Fig. 1), rear wiring harness from module 2 of the electric fuel pump.
We start the engine and let it run at idle until it stops completely to relieve pressure in the fuel system.
Disconnect the negative battery terminal.
After that, we connect the wiring harness block to the fuel pump module.
Install the manhole cover of the electric fuel pump.
Installing and fixing the upholstery of the floor.
Return the seats to their original position.
Remove the air filter housing (see the article - Removing the air filter).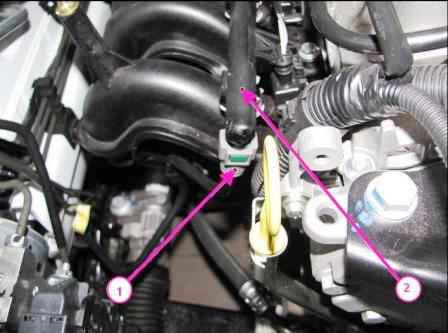 Push on the connector's spring clip and disconnect the supply pipe 1 (Figure 2) from the fuel rail 2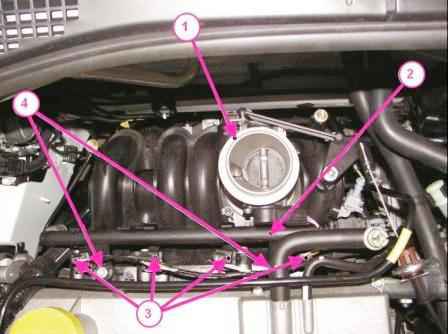 Removing the throttle pipe 1. Article on removing the throttle
Disconnect pads 2 (Figure 3) of the wiring harness from the injectors.
With a head of 8, we unscrew the two bolts 4 (Figure 3), fasteners and remove the ramp.
Installing the fuel rail
Before installation, we change the o-rings on the injectors.
Install the ramp on the engine.
We fix the ramp with bolts. With a head for 8 with a torque wrench, tighten with a torque of 9 Nm (0.9 kgcm).
Connect the wiring harness pads to the fuel rail injectors.
Connect the fuel pipe to the rail. We check the reliability of fixation by pulling the connector.
Connect the negative wire terminal to the battery and check the tightness of the connections.
Read more:
To remove the fuel rail of the K7M engine, you need tools: a TorxT30 key, a screwdriver and side cutters
We reduce the pressure in the power system, as described above
Disconnect the negative battery terminal
Remove the air filter housing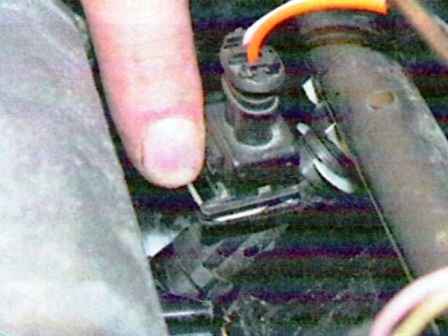 Squeeze the latches and disconnect the wire blocks from the injectors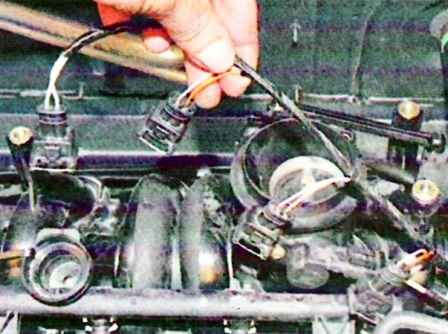 Leave the wiring harness to the side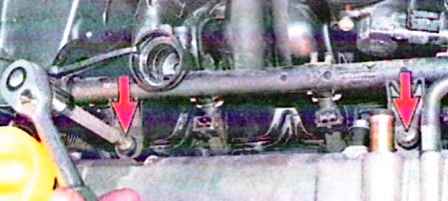 We unscrew the two bolts of the fuel rail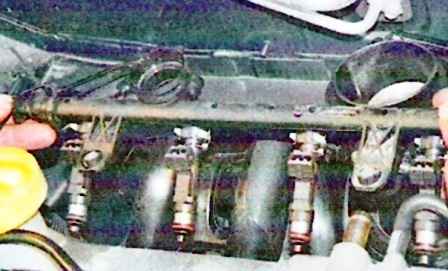 Remove the ramp by removing the nozzles from the holes in the intake pipe and without disconnecting the pipeline from the ramp
If, when removing the ramp, some nozzle remains in the intake pipe, you need to replace the retainer of this nozzle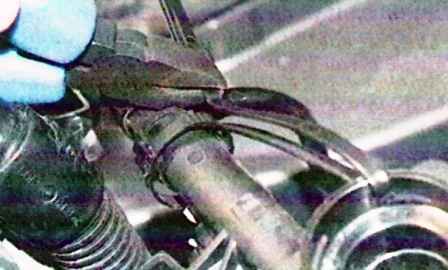 We bite the plastic safety clamp with side cutters to disconnect the fuel line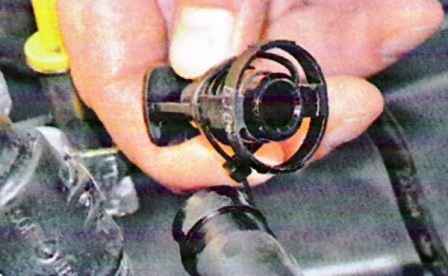 Squeeze the fixing ring and disconnect the pipeline from the fuel rail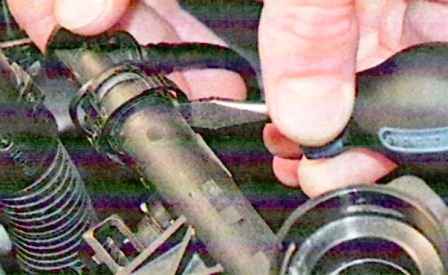 If necessary, press the latches with a screwdriver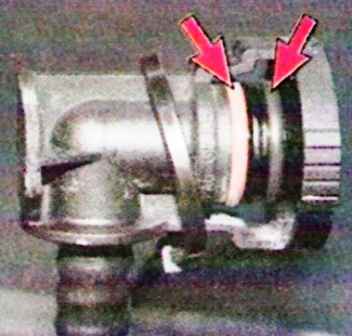 The rubber o-rings of the pipeline must be replaced every time the connection is disassembled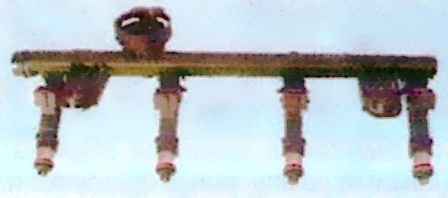 Remove the fuel rail assembly with injectors
Install the fuel rail in reverse order
We start the engine and check the tightness of the connections of the tubes and nozzles
Removing the fuel rail of the K4M engine
Preparing the car for work
We reduce the pressure in the power system, as described above
Disconnect the negative cable from the battery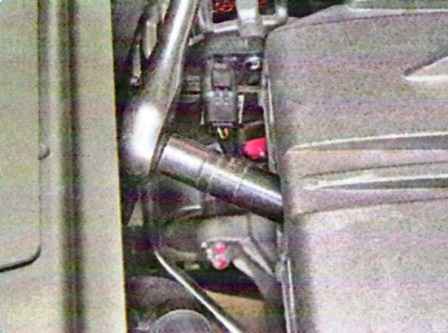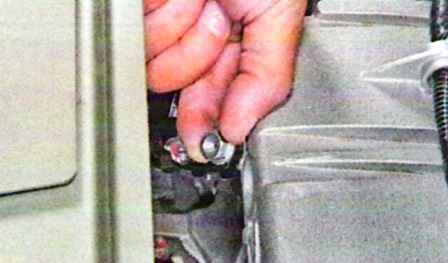 We unscrew the two nuts securing the protective casing of the fuel rail
Remove the nuts from the casing well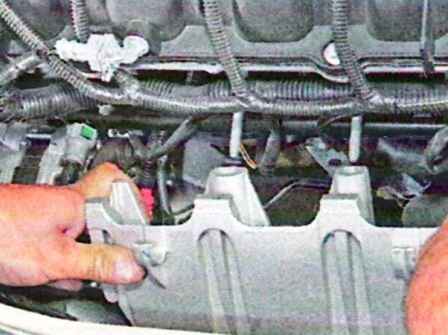 Slide off the studs and remove the protective cover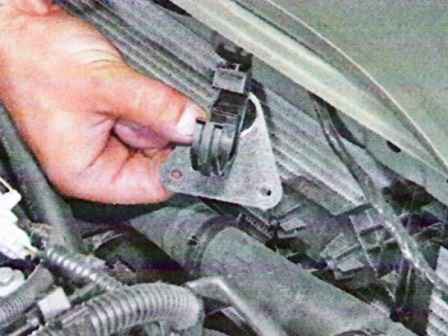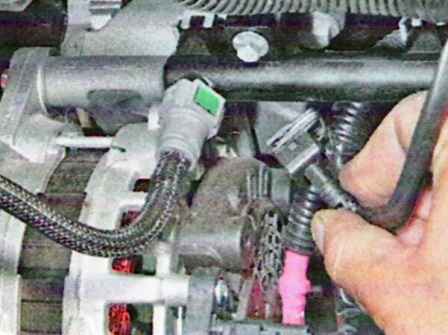 Press the latch and disconnect the wire block from the fuel injector
We also disconnect the pads from the remaining injectors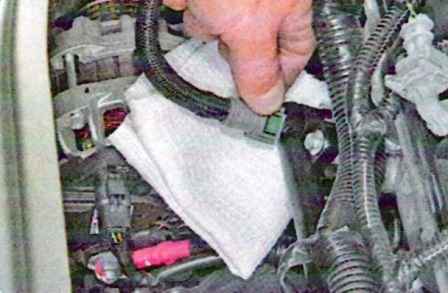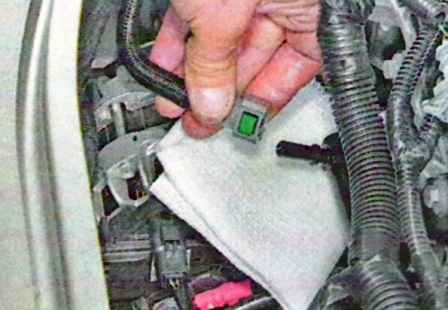 Squeeze the latch of the fuel supply hose tip, and disconnect the hose from the fuel rail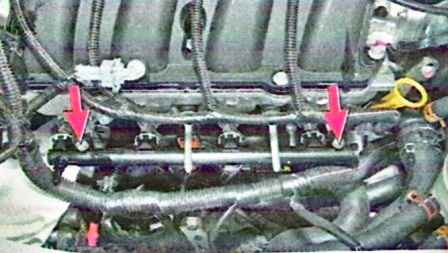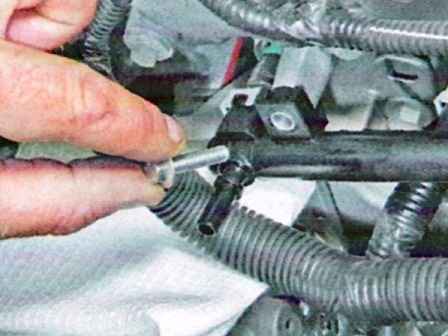 Unscrew the two mounting bolts and remove the bolts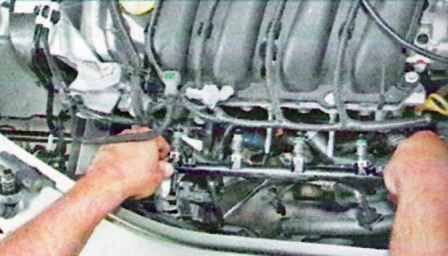 And remove the fuel rail, removing the nozzle tips from the intake pipe holes
Install the fuel rail in reverse order
Start the engine and check the tightness of the connections