We replace the rear wheel pads in case of damage, oiling and wear of the pads to a thickness of less than 1 mm.
The drum is replaced if it is damaged, cracked, and the working surface is worn out up to a diameter of more than 283 mm. We replace all four rear wheel pads at the same time.
ATTENTION: Brake drums are machined complete with hubs, so we install the removed drums only in their original places.
The factory manual recommends turning new drums assembled with the hub before installing them on the car.
Never press the brake pedal after removing the brake drum.
Removing the brake pads of the rear wheels
Remove the rear wheels.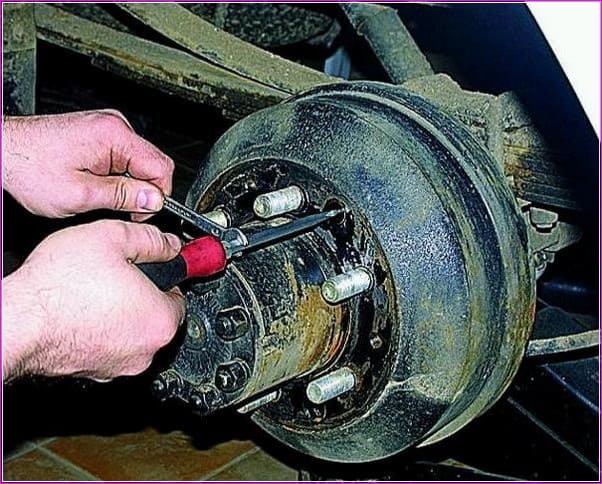 Using a large slotted screwdriver, unscrew the three screws securing the brake drum to the hub.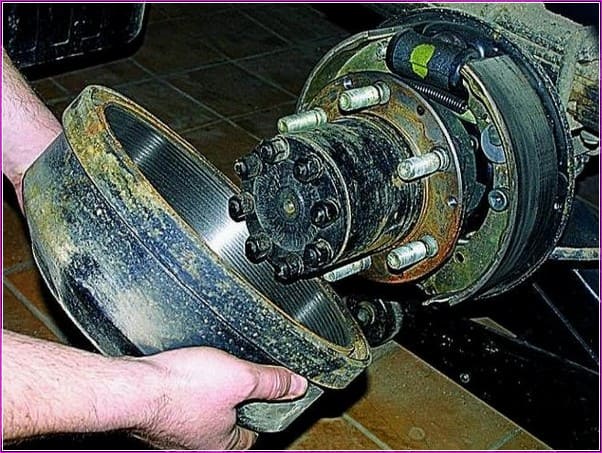 Remove the drum.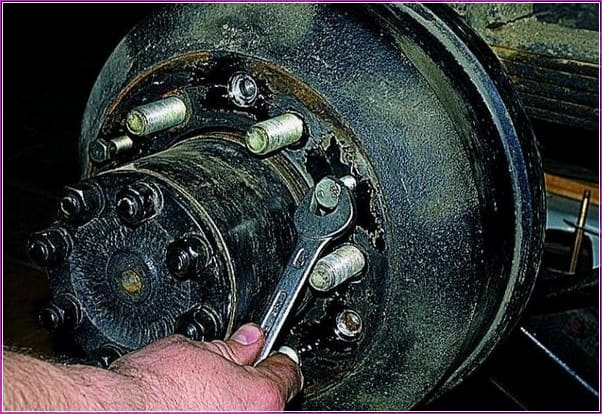 In case of a tight fit or "sticking" of the drum to the hub, you can compress it by screwing three M10 bolts into special holes.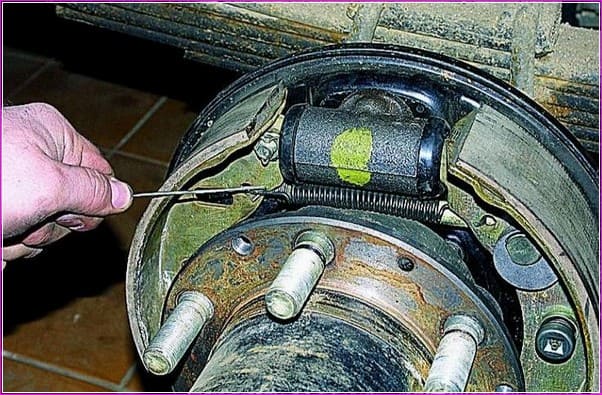 Use a hook or thin pliers to remove the end of the return spring from the hole in the rear brake shoe.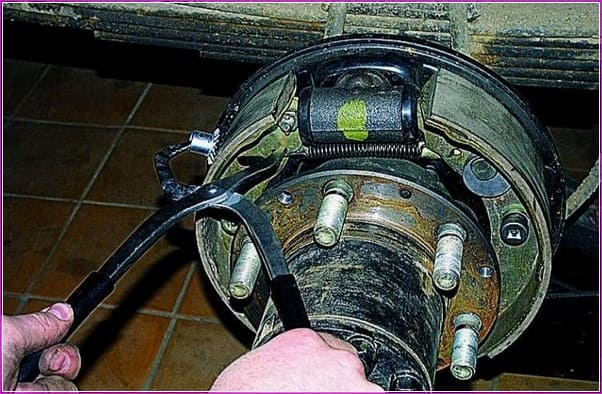 It is more convenient to use a special device for this.
From the inside of the brake shield with one hand, press the cap of the rear brake shoe rod, with the other hand on the cup, compressing the spring.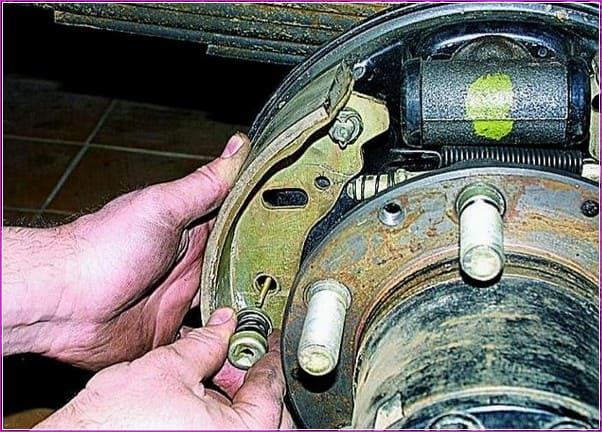 Turn the spring cup 90°.
This will align the notch on the cup with the axle tip. We remove the cups with the spring.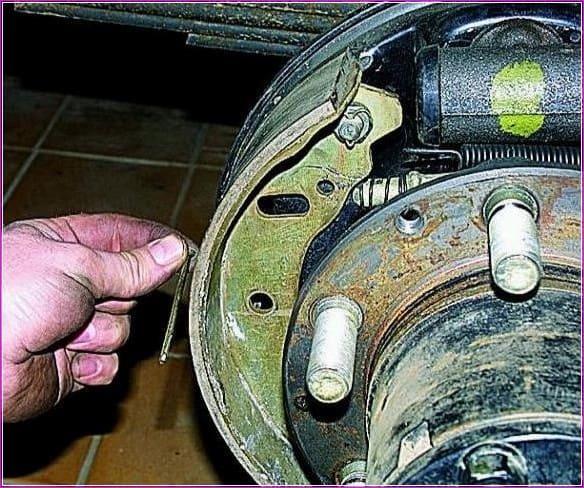 Remove the rod from the hole in the brake shield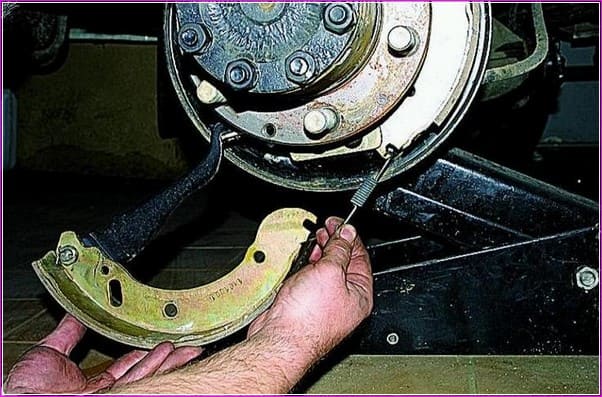 By turning the rear shoe, remove the lower return spring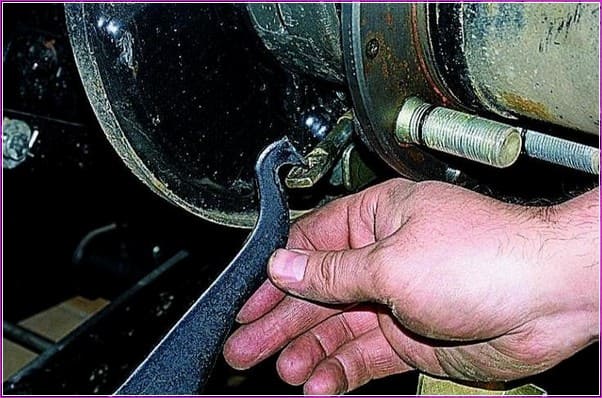 Remove the parking brake lever from the tip of the cable.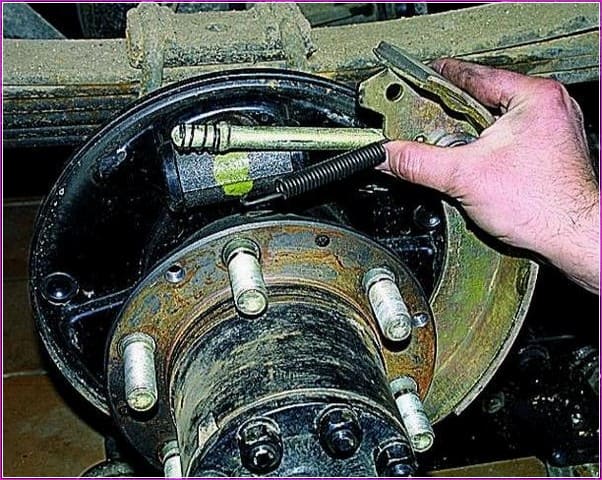 Similarly, remove the fastening of the front brake pad to the brake shield, and remove the front pad.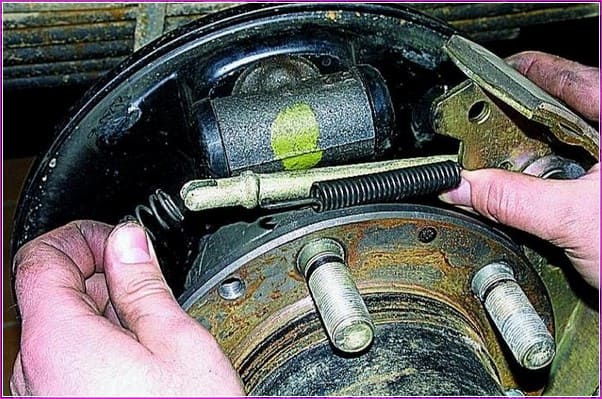 Remove the return spring from the block and the spring from the spacer rod.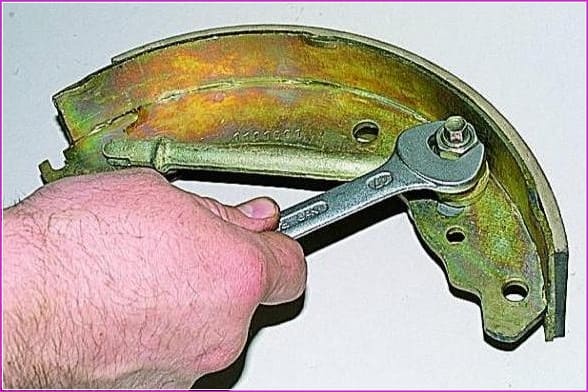 Using the "17" key, we unscrew the nut that fastens the rod to the block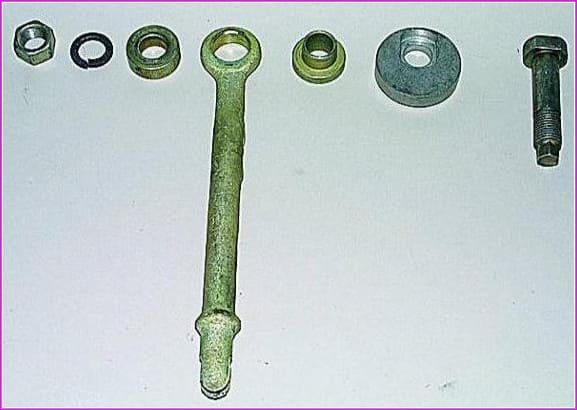 Remove the parts of the parking brake adjustment mechanism.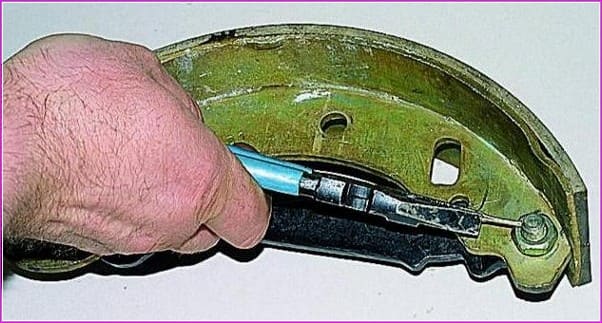 Using pliers, unpin the nut securing the parking brake lever.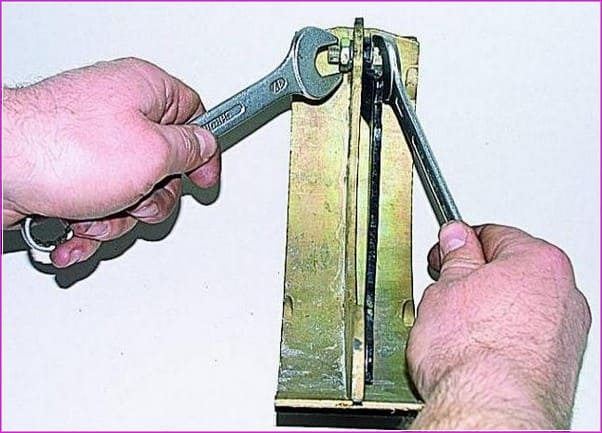 Holding the fastening bolt with the "17" key, unscrew the nut with the same key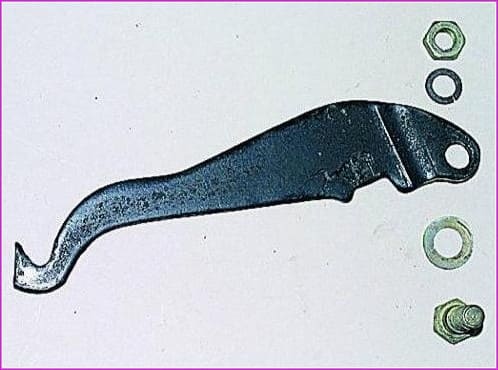 We take out the bolt and remove the fastening parts of the parking brake lever to the shoe
Installation
We rearrange the removed parts to new pads.
We install new brake pads in reverse order, after which we adjust the gap between the pads and the brake drum.
We install the drum, lubricating its landing belt with SHRUS-4 grease or graphite grease.
ATTENTION: The brake drum is installed on the hub in only one position, since the screw holes are made with a variable pitch around the circumference.
We install the wheels and press the brake pedal several times to self-install the elements of the brake mechanisms.