Check the condition of the brake pads at every service
Brake pads must be replaced when the pads are worn, the pads are not firmly connected to the base, the working surfaces are oily, there are deep grooves or chips
Replace front brake pads only as a set of 4. (two on each side).
Before replacing the brake pads, check the brake fluid level in the master cylinder reservoir.
If the level is close to the upper mark, it is necessary to pump out part of the fluid: after replacing worn pads, the fluid level will rise.
You will need: keys "13", "17", a screwdriver.
Remove the left front wheel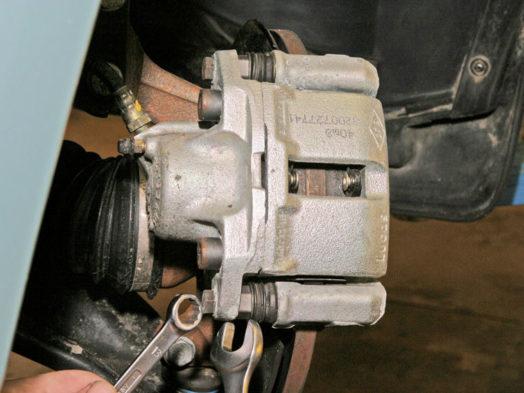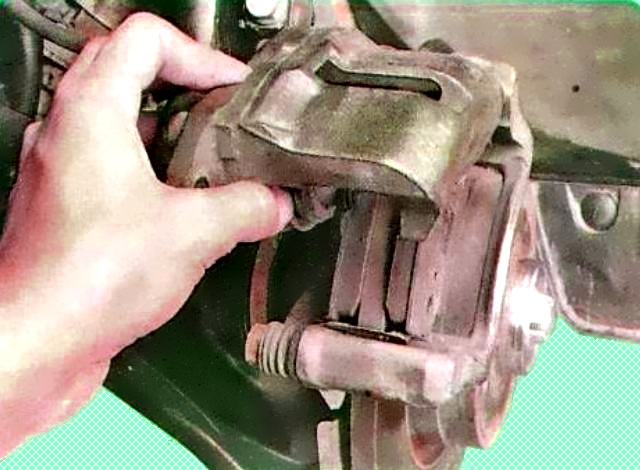 Remove the lower caliper guide pin bolt and lift the caliper up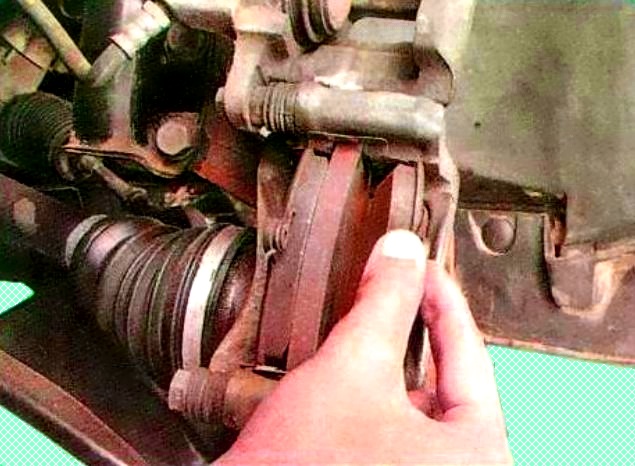 Remove the outer brake pad from the guide.
Lower the caliper into place and push down the slave cylinder piston by inserting a screwdriver between the caliper and brake disc and sliding the caliper out.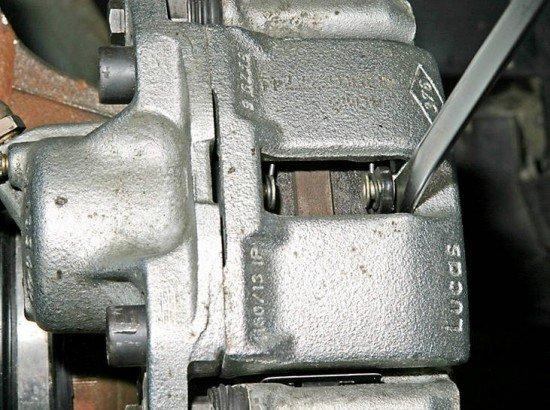 Flip the caliper up and remove the inner brake pad from the guide.
Whenever you change the brake pads, be sure to check the condition of the protective rubber boots of the guide pin, as well as the movement of the caliper relative to the brake pad guide.
If movement is difficult, grease the caliper guide pins.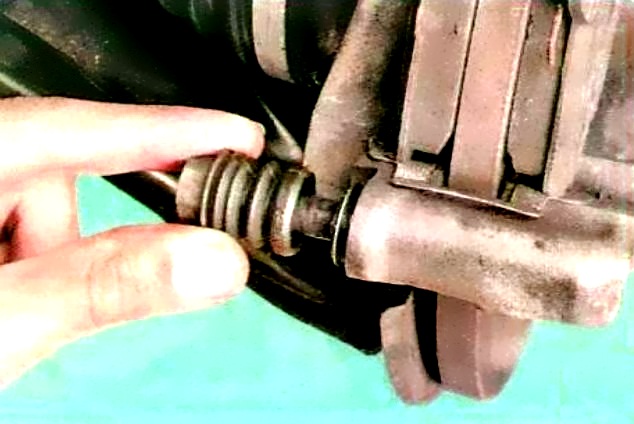 To do this, remove the guide pin,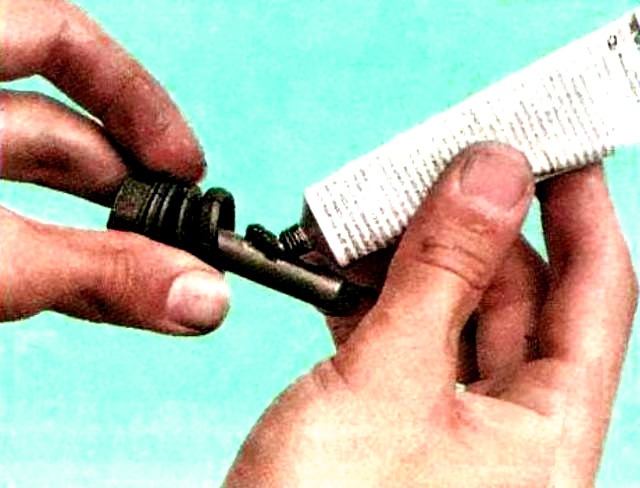 - lubricate it with grease and put the grease into the inner cavity of the boot.
Install the pin into the shoe guide in the reverse order of removal.
If there are signs of rubber floating, replace the guide pin guards.
Install the brake pads in the guides in the reverse order of removal.
To prevent self-loosening of the caliper guide pin bolt, lubricate its threads with an anaerobic thread locker before installing.
Tighten the bolt to 34 Nm (3.4 kgf-m).
Depress the brake pedal several times to bring the brake pads to the disc.
Install the wheel.
Replace the right wheel brake pads in the same way.
Check and, if necessary, top up the brake fluid level in the master cylinder reservoir.
After replacing worn-out brake pads with new ones, do not rush to immediately drive onto busy highways.
It is possible that the first time you brake heavily, you will be unpleasantly surprised by the low efficiency of the brakes despite the fact that branded pads are installed.
Brake discs also wear out, and new pads only touch them at the edges, practically without braking.
Choose a quiet street or passage without cars and slow down gently several times so that the pads get used and begin to fit the entire surface. At the same time, evaluate the effectiveness of the brakes.
Try not to brake hard for at least the first 100 km.
When unused pads get very hot, the top layer of their pads burns and the brakes will not be as effective as possible for a long time.