The pump is usually changed when extraneous noise appears in the pump area, as well as in case of failures and a decrease in engine power
You must first check the pressure in the fuel supply system in the following order:
- check the health of the pressure regulator.
- check fuel pressure at idle.
If the pressure is less than 300 kPa (3 kgf/cm2), remove the pump and wash the coarse fuel filter mesh;
- if this does not help, we replace the fine fuel filter (see the article - "Replacing the filters of a Gazelle car").
1. We reduce the fuel pressure in the fuel supply system.
To do this, remove the fuel pump fuse from the fuse box.
We start the engine and let it run until the fuel is completely exhausted from the fuel line. After that, the engine will stall.
2. Disconnect the "minus" terminal from the battery
3. For all-metal cars, remove the floor mat above the hatch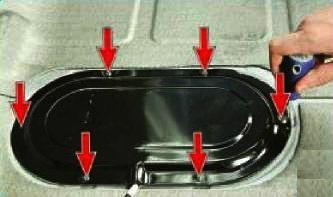 We unscrew the six screws securing the hatch cover at the base of the body above the fuel pump module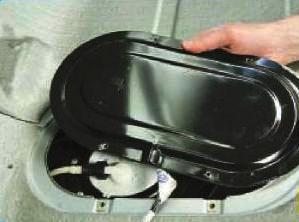 Remove the cover.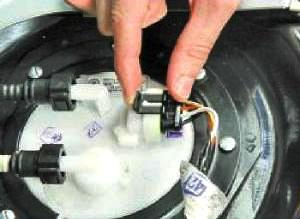 Press out the latch
Disconnect the wiring harness block from the fuel pump module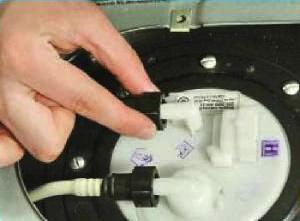 Press the lock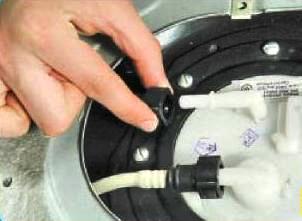 Disconnect the high-pressure and drain fuel lines from the module fittings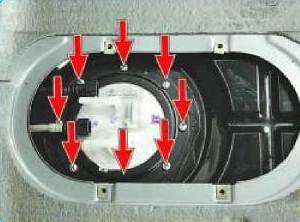 Remove the eight screws securing the fuel pump module fixing ring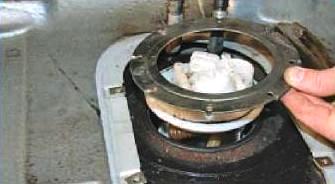 Remove the ring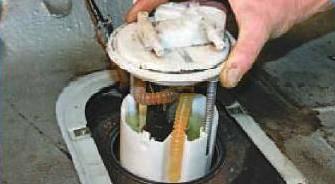 Raise the module by tilting it to the side, remove it by pulling the float of the fuel level sensor out of the hole in the fuel tank, and drain the fuel from it into a pre-cooked dish.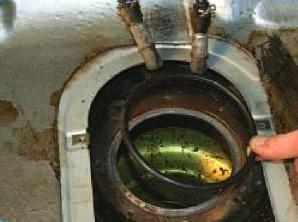 Remove the rubber sealing ring from the tank flange.
A severely reduced, hardened or torn ring should be replaced
Replacing the coarse fuel filter
Remove the fuel pump module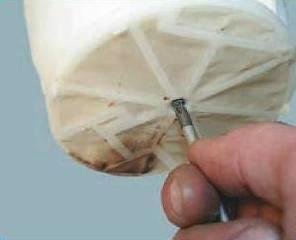 Unscrew the screw securing the fuel pre-filter screen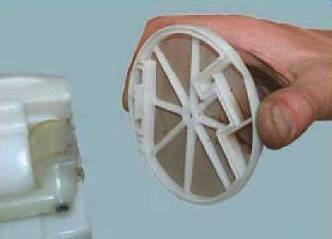 Remove the mesh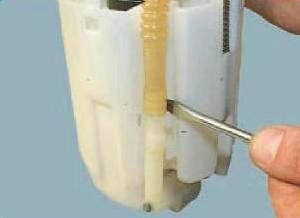 Disconnect the drain tube from the pump module housing by prying it with a screwdriver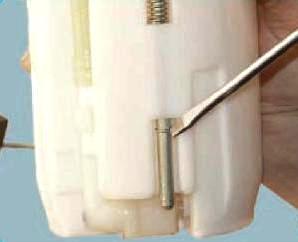 Overcoming the force of the spring, slightly move the module case up along the guides and prying with a screwdriver, remove the retaining ring from one of the guides.
After that, the module housing can be slightly moved down from the bracket.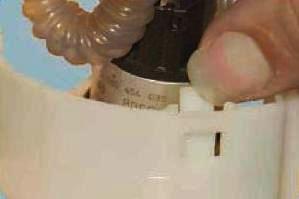 Press out the plastic retainers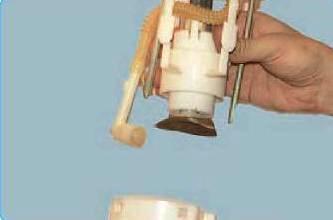 Remove the module case from the bracket guides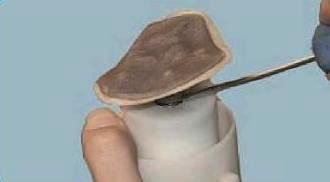 To replace the fuel filter, pry off the base with a pointed tool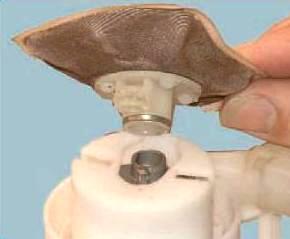 Remove the filter from the pump housing, overcoming the resistance of the spring lock washer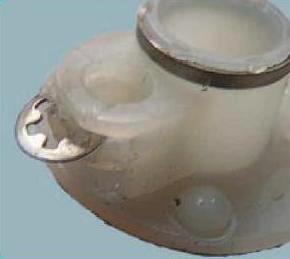 Before installing the filter, remove the lock washer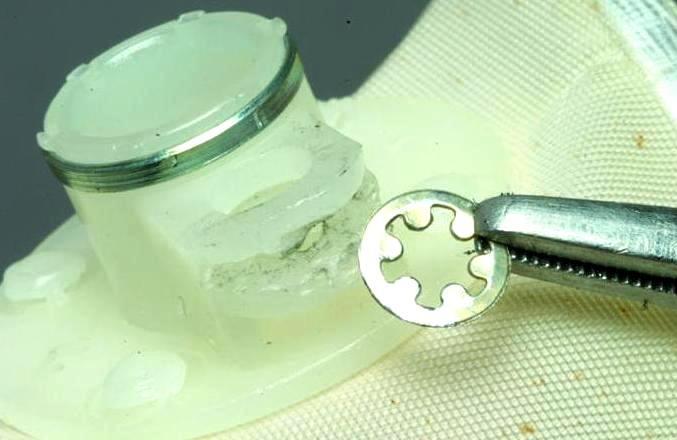 We straighten it with pliers and install it in the filter housing
Install the filter in reverse order
Install the module in the reverse order of removal.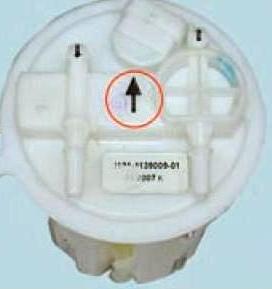 When installing the fuel module into the fuel tank, the installation arrow on the module bracket must point towards the front of the vehicle.
When connecting fuel lines, be guided by the arrows on the fittings showing the direction of fuel supply.